MSI SUPRIM X: A Diamond faster than ever
The NVIDIA GeForce RTX 4090 graphics card delivers extreme speed for gamers and creators alike. With outstanding performance and graphics capabilities enhanced by Artificial Intelligence, this new monster of power will allow you to dive into the heart of the action and immerse yourself in worlds with ultra-realistic graphics. Low-latency rendering, ultra-high frame rates, and ray tracing advanced that you could game like never before. Finally, revolutionary new ways to create content will allow you to accelerate your workflows in entirely new ways.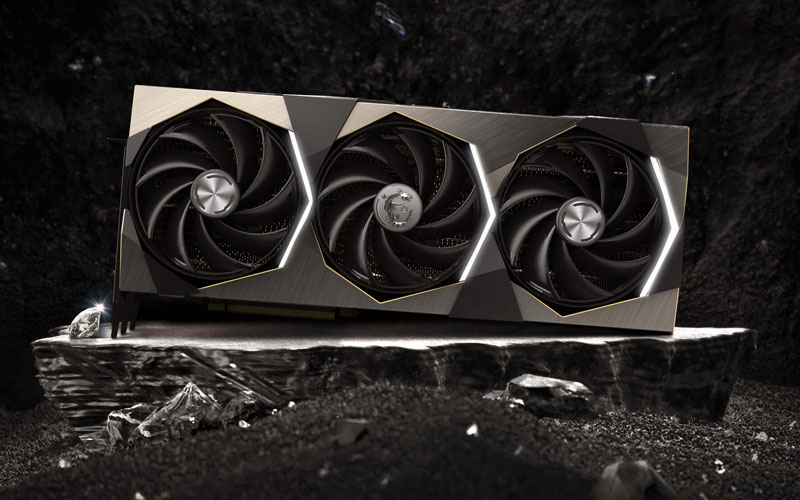 </div >
MSI GeForce RTX 4090 SUPRIM X 24G
An RTX 4090 custom made by MSI. Equipped with a high-performance in-house cooling system (Tri-FROZR 3S), its objective is to allow you to play your favorite games in the best conditions, without lag and without overheating. Three MSI TORX 5.0 fans provide airflow and heat removal while an aluminum backplate acts as a heatsink and rigid plate for the underside of the PCBs.
NVIDIA Ada Lovelace Architecture
This new architecture will allow you to stay one step ahead. She is ahead of her time and ahead of the game.
New Stream Multiprocessors: Up to 2X Performance and Power Efficiency
Fourth Generation Tensor Cores: Up to 2x more AI performance
Third-generation RT cores: Up to 2x more ray tracing performance and realistic, immersive graphics
Low Latency NVIDIA Reflex Platform
NVIDIA Encoder: Design for Live Streaming
NVIDIA Broadcast: AI-Powered Video and Voice
NVIDIA Studio: Accelerate Your Creativity
NVIDIA DLSS 3: AI-accelerated performance
Ray tracing
Hyper-realistic and hyper-fast, Ray tracing brings you closer to reality. The Ada architecture harnesses the full power of ray tracing, which simulates the behavior of light in the real world. With the power of RTX 40-series GPUs and third-generation RT cores, you experience more detailed virtual worlds than ever before.
NVIDIA DLSS 3
Multiply your performance with AI. A groundbreaking innovation in AI-based graphics rendering, DLSS dramatically accelerates gaming performance. AI to generate additional high quality images.
NVIDIA Reflex
Victory is measured in milliseconds. GeForce RTX 40-Series GPUs and NVIDIA Reflex technology deliver the lowest latency and responsiveness to give you the ultimate competitive edge. Designed to optimize and measure your system's latency, NVIDIA Reflex technology accelerates target acquisition, minimizes reaction times, and improves your shot accuracy in competitive games.
NVIDIA Studio
Your ideas, accelerated by NVIDIA Studio. Take your creative projects to the next level with NVIDIA Studio. Powered by new dedicated hardware, RTX 40-series graphics cards give you unparalleled performance for 3D rendering, video editing, and graphic design. Take advantage of RTX's unprecedented acceleration capabilities in leading creative applications on the market, state-of-the-art NVIDIA Studio drivers designed to ensure maximum stat a suite of exclusive tools harnessing the power of RTX to accelerate AI-assisted creation workflows.